Any other pumpkin lovers here?! I know, I know, I can see the eye rolls for pumpkin and everything fall coming our way, but I have always loved anything pumpkin and at anytime of year! So, when I decided I wanted to make a big batch of lactation cookies I wanted to somehow incorporate pumpkin into them. Now don't let the word "lactation" freak you out haha, I promise these cookies don't have anything in them that is going to make you spontaneously produce breast milk and they are totally okay for anyone to eat! But, they do have the added benefit of some ingredients that can help to boost your supply if you're looking to do so!
Now, full disclosure, this recipe is an adapted version of one from Premeditated Leftovers. I've made some modifications to create what I think is a slightly better tasting and less sugary cookie. I'm also including some tips for making this without the Brewer's Yeast in case that isn't your thing.
Also, a note on Brewer's Yeast. Basically it's a nutritional supplement and not just for breastfeeding mamas. It's full of B vitamins, probiotics, and can have some great healthy benefits too! (Now I'm not a doctor so you should always ask your doctor if taking a new supplement or if you are wanting to know more, I'm just going off of my personal experience and research and in no way should it be construed as medical advice). That being said, I just wanted to make it clear that you don't need to be afraid of it in the cookies! It's in bread, beer, etc.
Alright let's get down to the recipe. First, the ingredients:
Dry Ingredients:
1 Cup All Purpose Flour
1 1/2 Cup of Oats (I used Old Fashioned Oats)
1 Cup Brown Sugar
1 Cup White Sugar (or Coconut Sugar works here)
1 Tbsp. Pumpkin Pie Spice (Recipe below)
3 Tbsp. Brewer's Yeast - I've linked the one I found on Amazon for the best price!
2 Tbsp. Ground Flax Meal
1/2 tsp. salt
1 tsp. baking soda (don't add this until LAST..I'll explain why later)
Wet Ingredients:
1 cup butter, softened to room temp (Tips: 1. I use one stick of salted, 1 stick of unsalted butter...it's your preference whichever you'd like to use. 2. Don't microwave your butter, let it sit out or else you will get tough, chewy cookies)
1 egg, beaten
1 tsp. pure vanilla extract
1, 15 oz. can of pumpkin puree (plain pumpkin, not pie filling which is "pre-seasoned")
Pumpkin Pie Spice:
2 tsp. cinnamon
1/4 tsp. ground ginger
1/4 tsp. ground cloves
1/4 tsp. nutmeg
1/4 tsp. allspice
**this will make more than the 1 Tbsp. needed for the recipe, but always good to have on hand
STEP 1: Preheat oven to 350 degrees.
STEP 2: Mix the flour, sugars, pumpkin pie spice, yeast, flax, oatmeal, and salt together with a whisk or wooden spoon in large bowl. Do NOT add the baking soda yet!
STEP 3: Combine the softened butter, beaten egg, and pumpkin in a different bowl using a hand or stand mixer until combined. It will look a little chunky, but that's okay!
STEP 4: Gradually add in the "wet" pumpkin mixture into the dry ingredients using a wooden spoon. You'll have to use some muscle here and you should end up with a pretty sticky cookie dough by the end. Don't worry, it will probably look like it's too runny but I promise it isn't!
STEP 5: Add the baking soda! Once all of the ingredients are combined, add the baking soda to the cookie dough mixture. This is a trick I have learned when baking over the years and it makes for amazingly soft, fluffy cookies every single time!!
STEP 6: Scoop heaping tablespoons of the dough onto a cookie sheet. Here's my FAVORITE cookie sheets in the entire world! I recommend using parchment paper too if your cookie sheet isn't non-stick.
STEP 7: Bake cookies in the oven for 10-12 minutes. Watch for them to start browning, you don't want the bottoms to get too dark. When baked to desired doneness, remove and place onto a cooling rack.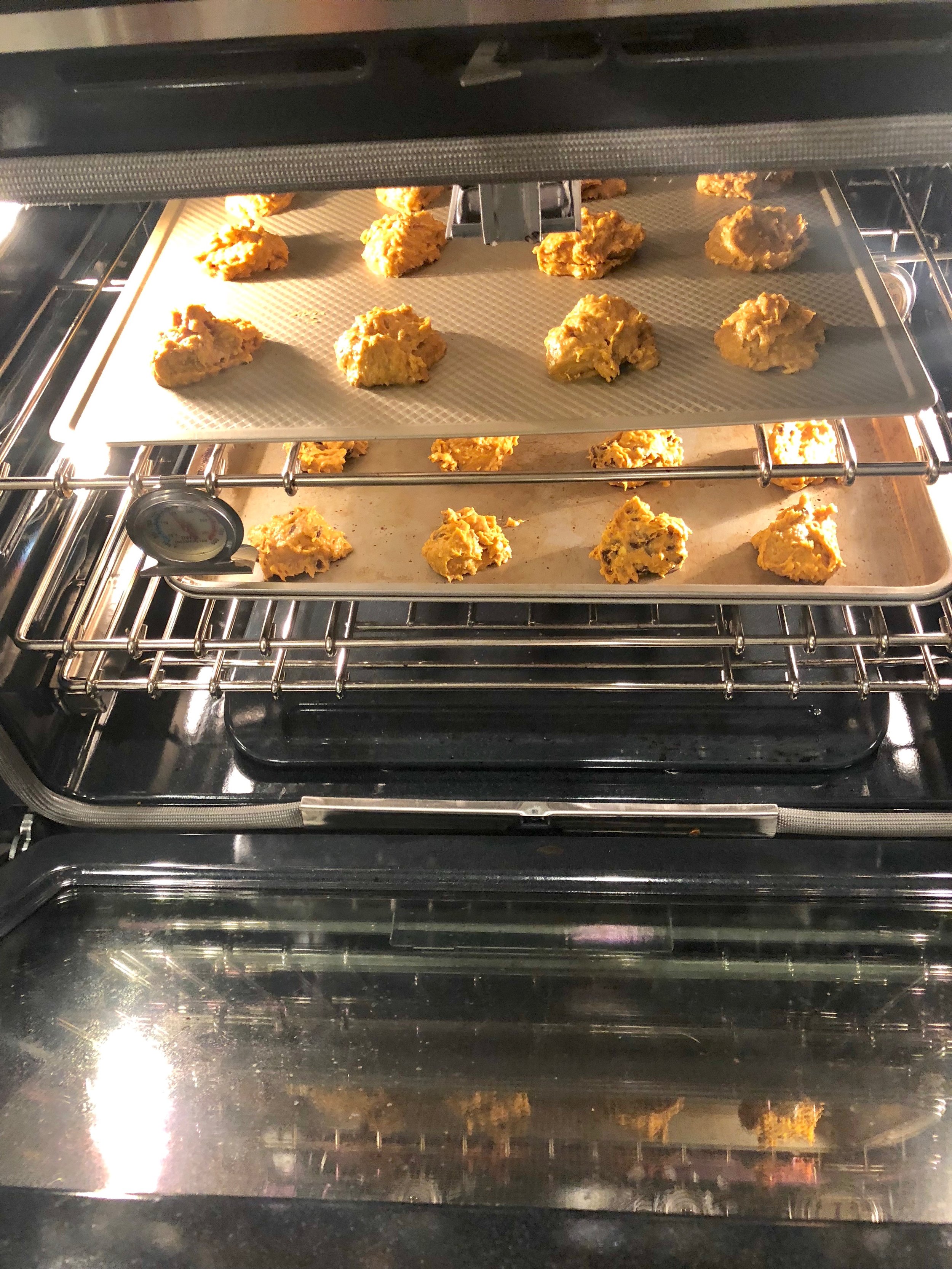 STEP 8: EAT THEM! They are so good! I recommend storing them in the fridge for prolonged shelf life, or the freezer if you plan to make a ton
You should get about 48 cookies from this recipe. I doubled it and ended up with 100 something cookies...which was the plan all along because I wanted to freeze them so I can easily grab them and go when the baby is here! Also, feel free to add in things like chocolate chips, nuts, etc.! I added chocolate chips to some of mine and it makes them even more delicious!
Remember - you can make these without the Brewer's Yeast or modify to your taste!
If you have any questions, feel free to leave them for me in the comments below!
Happy Baking!
XoXo - Jamie