With summer here that means summer squash is everywhere! Zucchini, yellow squash, etc. are all in abundance at the farmers market, grocery stores, and maybe even your backyard. One of my favorite ways to cook is through using in season ingredients because they are fresh and also budget friendly! This easy Zucchini Rollatini has become a staple in our house and it can easily be modified with whatever you have on hand - yellow squash, eggplant, even large carrots! Your kids will also love it too and you will get your pasta fix without feeling like you weigh 20 more pounds after indulging.
The best part? You can prep this ahead of time and throw it in the oven when you are ready!
Zucchini Rollatini
Ingredients:
2 Large Zucchini (or other preferred vegetable) - the wider the better

1 egg

2 to 2 1/2 cups of Part-Skim Ricotta - I always make a little extra and go with the 2 1/2 cups

1/2 tsp. garlic powder

Fresh or Frozen spinach - cooked, drained, and chopped

1 handful fresh oregano (or 1 tsp dried)

1/2 Shredded Cup Mozzarella Cheese

1/8 Cup Grated Romano/Parmesan/or any similar blend

Kosher Salt

Fresh Ground Black Pepper
Step 1:
First, cook the spinach until it is slightly wilted. Drain, cool, and chop. Then set aside.
Step 2:
Preheat oven to 375 and slice the zucchini thin (about 1/8 inch). Drizzle with olive oil and bake for 15 minutes or until soft and pliable - you want to be able to roll them without breaking.
Step 3: While zucchini cooks, mix together Ricotta, egg, oregano, garlic powder, salt and pepper.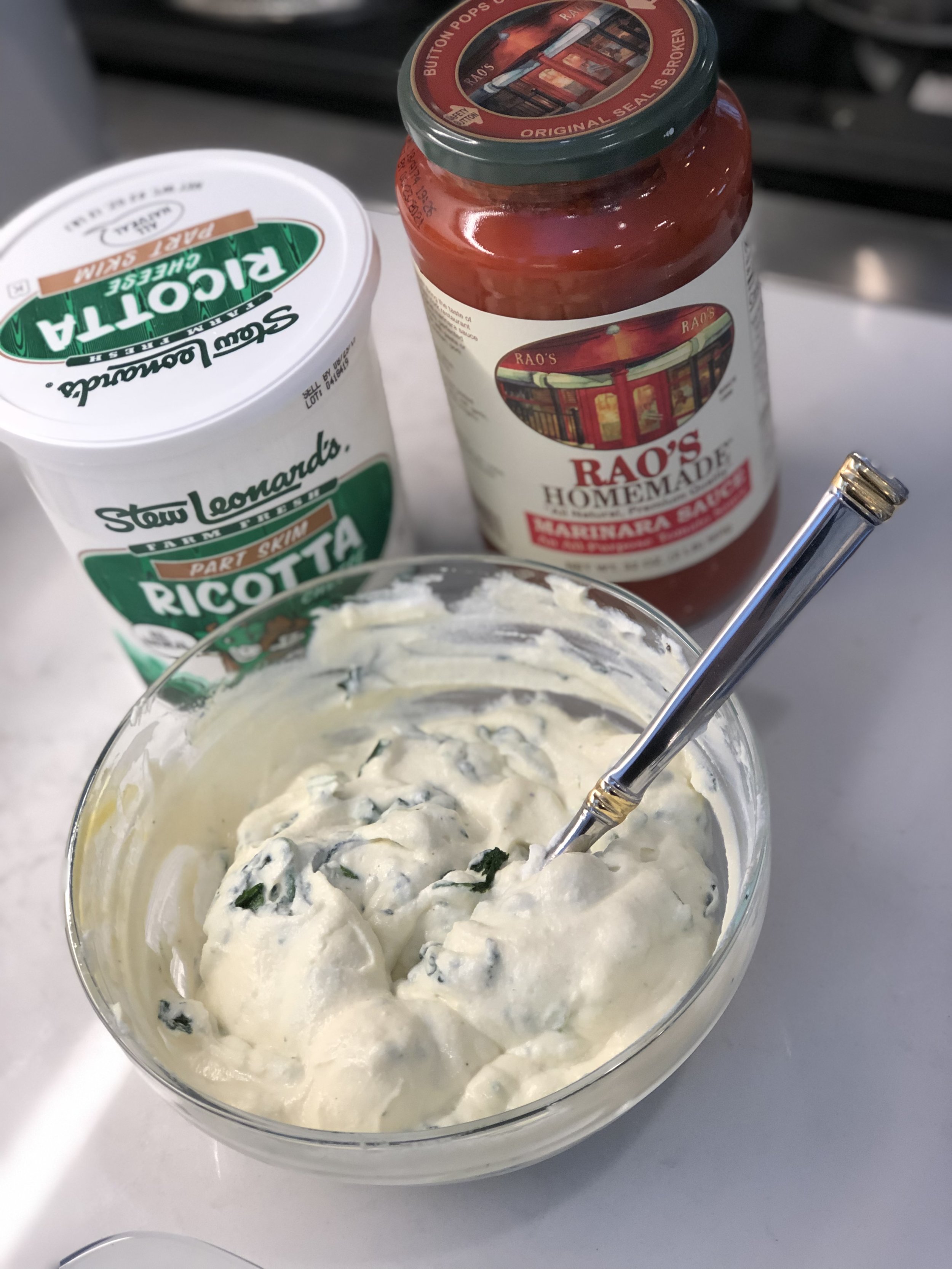 Step 4:
Add in the chopped spinach to the ricotta mixture. Check your zucchini and remove from oven when finished. Then grab your favorite tomato sauce!
Step 5: Take your zucchini slices and lay them flat. Blot dry with a paper towel to remove excess water. Fill the slice with the ricotta mixture and roll each slice up.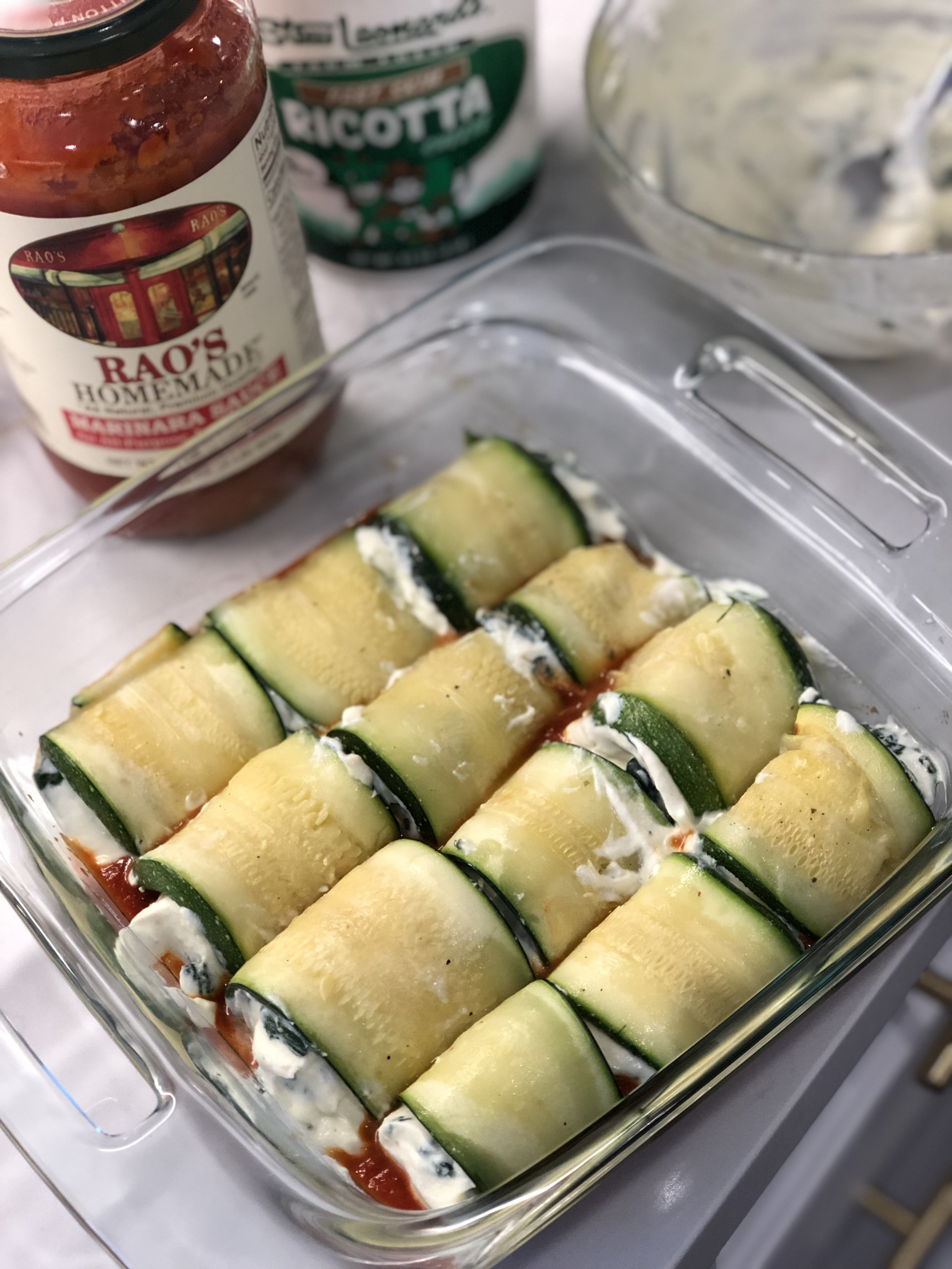 Step 6:
Layer the bottom of a baking dish (I used 8x8) with the sauce. Place your rollatini with the ends facing down to avoid a cheesy explosion!
Step 8:
Top off your rollatini with more tomato sauce, freshly grated cheese and the shredded mozzarella. Place in oven and bake for 30 minutes.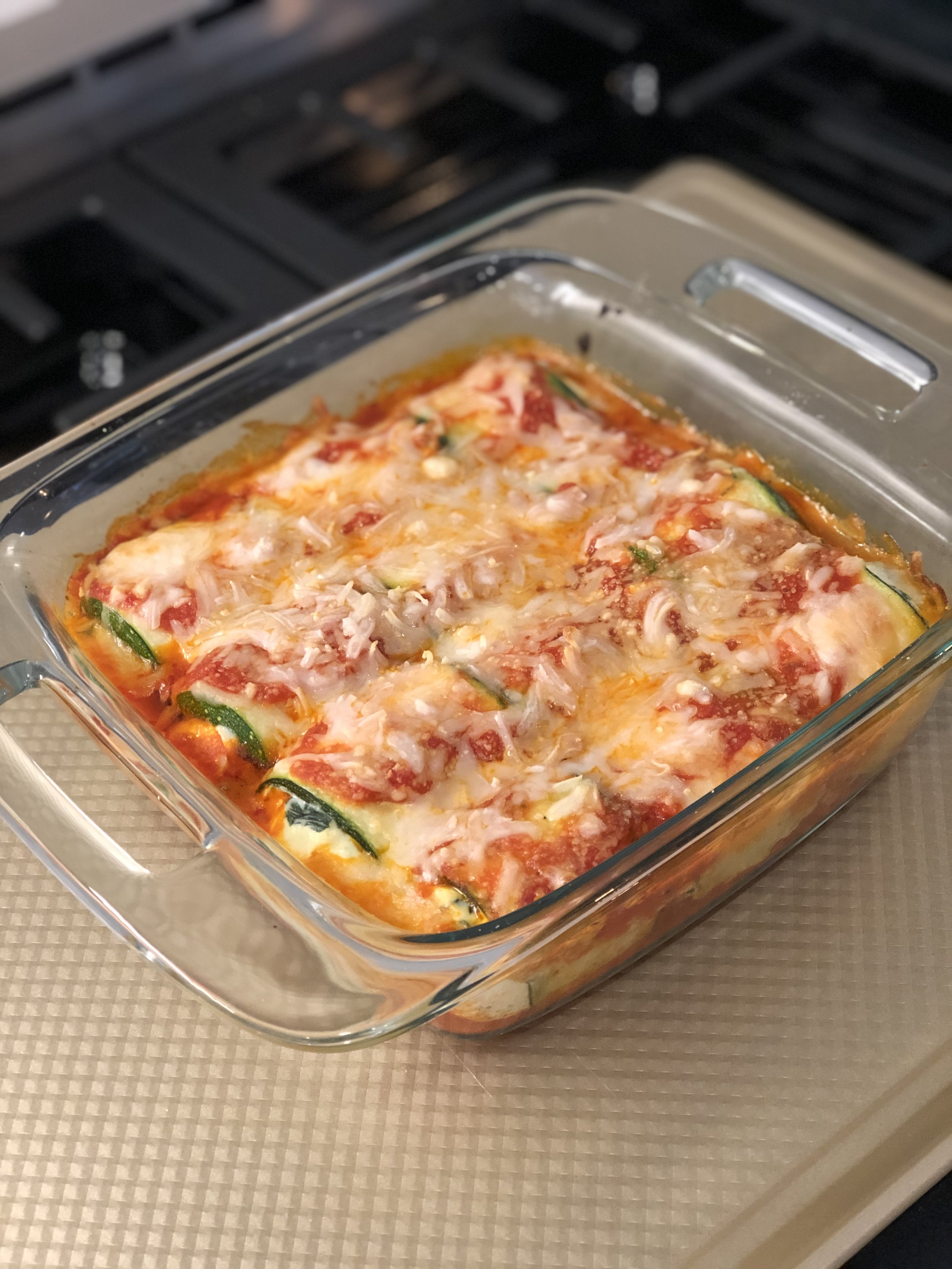 FINAL STEP: Remove your rollatini from the oven when it is bubbling! Let rest for 10 minutes to cool and set. Then, ENJOY!
**You can complete steps 1-8 and throw the entire baking dish into your fridge until you are ready to bake it! I suggest with this method to let it sit for 5-10 minutes and come closer to room temperature before baking to ensure you don't crack your pan or have excess water.
Now, get a fork, and DIG IN! If you have any questions, please feel free to leave them in the comments below or shoot me an email!
XoXo - Jamie