I cannot believe that one year ago, July 29, 2017, my husband and I said "I Do" in front of all our friends and family. When we got married, everyone said that the first year of marriage is the toughest; if you make it through this, you'll make it through anything. They weren't lying! Even though we lived together for quite a while before getting married, being married brought a host of new challenges, experiences, and ups and downs. Over the past few days we've been reflecting on everything we went through together during this first year and it's kind of crazy to look back and reflect on all of it now!
Renovating a Home - Okay so my advice to anyone is DON'T try to take this on in addition to planning a wedding. We were so overwhelmed at some points and it truly tested our relationship...a lot. We were trying to finish the renovation while planning the wedding and entertaining around 200 guests. We eventually were able to get the house complete enough to move in by the end of October 2017, but we still had lots to do. We've spent 2018 and what remained of 2017 finishing up projects around the house with what seems like a never ending to-do list.
Moving from NYC to the suburbs - With the renovation came a move. Moving from the city to the suburbs brought a whole new set of experiences we never really anticipated. It's certainly a lifestyle adjustment and you don't really realize how much your life will differ until it actually does. First came the big change in commuting. In the city it was easy for my husband to get to his work and me to get to Brooklyn either on the subway or biking. In the suburbs, we now had to catch a train in the mornings on a set schedule instead of the every 5 minute subway times and then also catch subways once we got into the city. You also need a car when you move to the suburbs so finding the right car, taking on car payments, insurance, and figuring out parking, commuting times and bus schedules between our busy schedules was challenging in itself.
Getting Pregnant - SURPRISE! That was literally the biggest shock of our lives when we found out in December 2017 (2 days before Christmas) that was was pregnant. We knew we wanted to have children but we weren't planning on doing so until after I finished law school and took the bar exam..so at least a year. But, God and the universe always have different plans so we had to go with the flow! Being pregnant brought a bunch of challenges we just weren't prepared for. From making sure that you are doing everything right to help a baby to grow, to all of the tests, scary results, hospital stays, pre-term labor, etc., the experience has been both scary and surreal, but it's also brought us closer together as a couple. We also quickly had to have more conversations about raising a family before we anticipated needing to do so, but it all has helped us to understand one another better and wha tis most important to us and to our family. We've been joking that we hope the baby waited until after our anniversary to arrive so we could at least make it our first year of marriage and so far, so good...but he or she still has until 11:59 tonight to change that plan! Haha!
Earning a Doctorate - Another thing that has greatly tested our relationship and also our marriage was my decision to go to law school and earn a Juris Doctorate. Law school was the main reason we moved to New York (although we would have ended up back here eventually) but that move 3 years ago was a big decision. Then, balancing school this year with the move, the pregnancy, being an editor on a school journal, and then trying to maintain grades definitely put a strain on our relationship at times. Thankfully, my husband is an attorney and he understood better than anyone the sacrifice that law school requires and the stress that it puts on you emotionally and physically. Then, to add in the almost 2 hour commute with "morning sickness", which for me was really all day sickness, just added a new element. I was definitely not the fun person he married for several months, but I love him for sticking it out and supporting me all the way!
Just Being Married - Now I think being married in itself is just a completely new experience, regardless if you have anything else going on in your lives. Something about it just feels different, and you now start looking at the other person so more than just the person you love, and instead as your true partner in life who you need to selflessly be there for through the good, the bad, and the ugly. For me, marriage is a true commitment where you vow to take on experiences with the other person, no matter. how scary they may be and without just giving up and throwing the towel it. It is something I don't know if you can fully, mentally prepare yourself for, but its an experience and commitment I wouldn't change for anything in the world!
Phew, that was long! So let's get into the fun stuff now, recapping our wedding day! Wedding planning is completely daunting sometimes and it's hard not to obsess over every detail when you want things to be absolutely perfect. Below I'm giving you the details on all of the vendors, our experiences, and some tips for wedding planning in general!
THE VENUE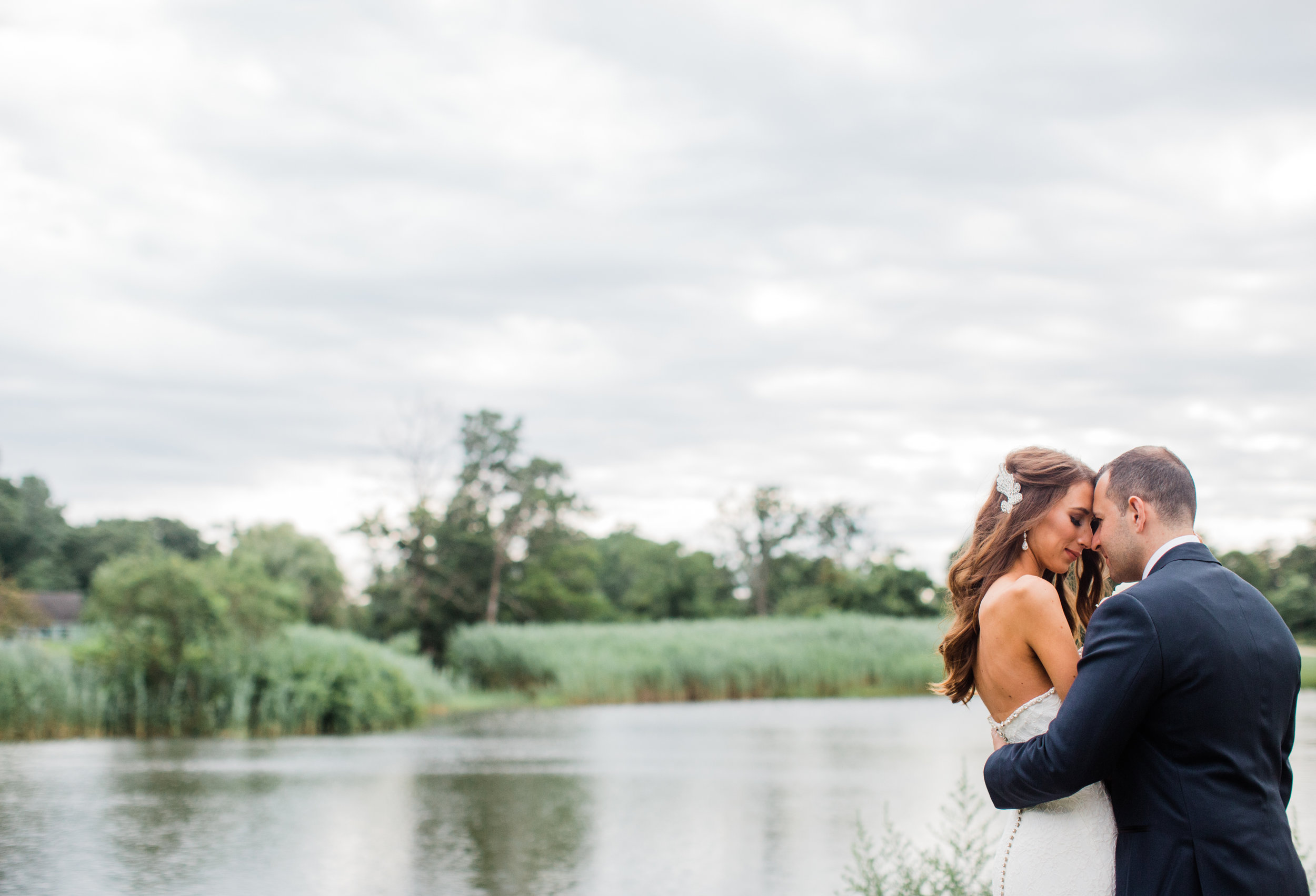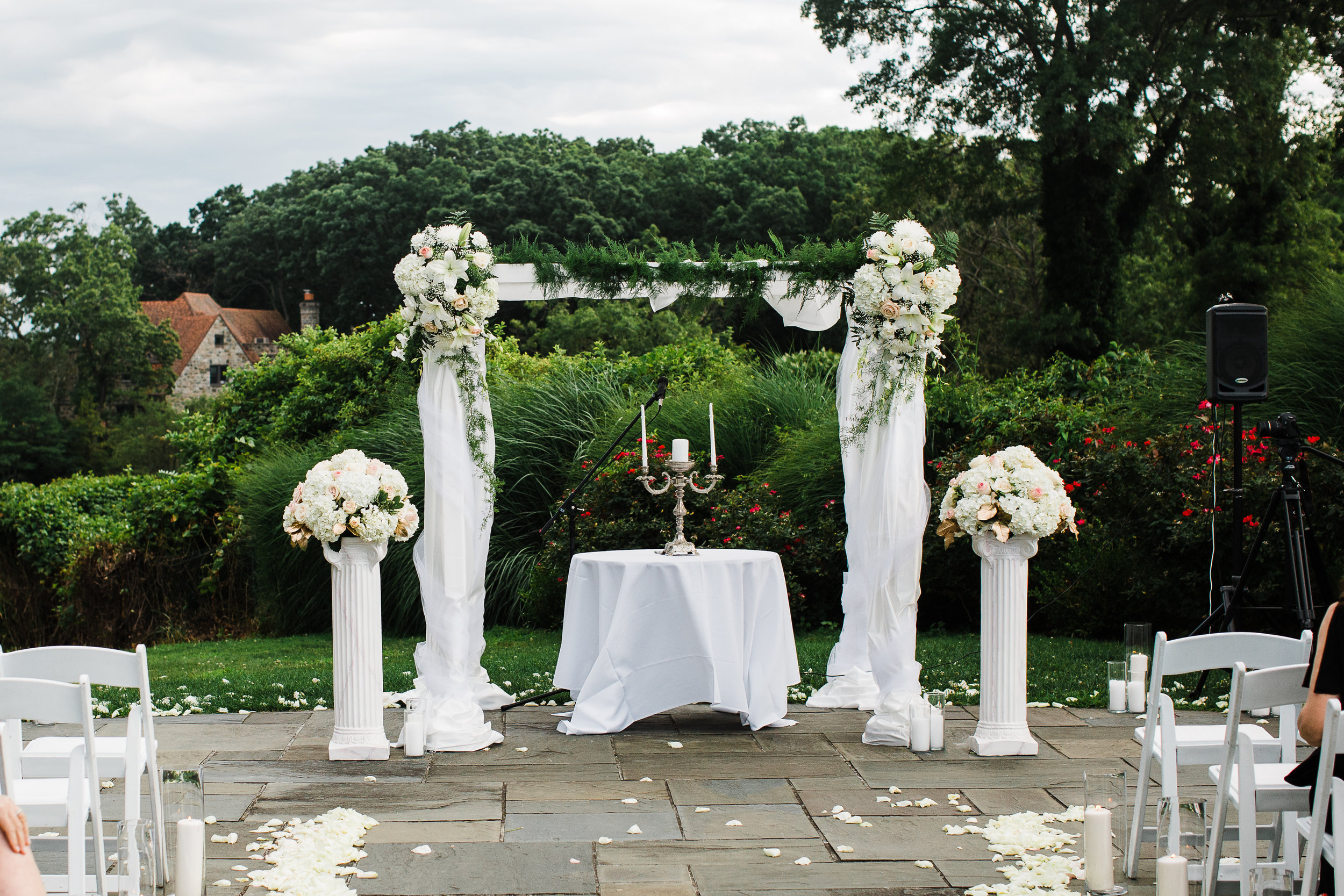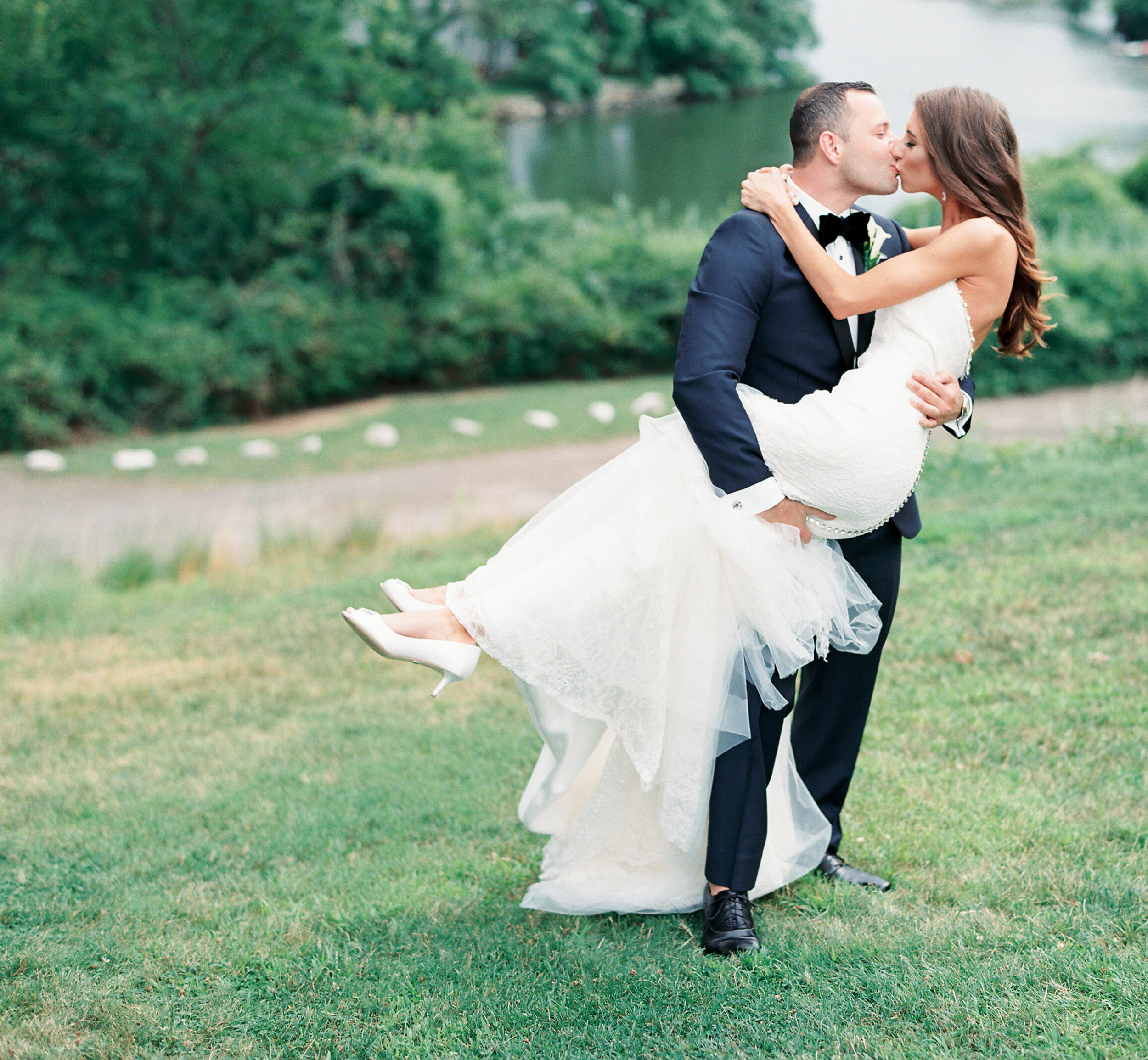 We debated between a city wedding or wedding in the suburbs. We ultimately decided on Hampshire Country Club in Mamaroneck, NY. There's definitely pros and cons to both, but it ultimately came down to space, the look we wanted for our wedding, convenience, and of course price (since we paid for the majority of our wedding expenses). Venues in the city were nice, but often wouldn't hold more than 100 people, OR everything was an a la carte fashion, meaning they would charge you $10-$15k just to rent the space with no chairs, tables, staff, decor, etc. Once you start doing everything that way, it adds up REALLY quickly and your wedding can easily reach an astronomical figure.
There was also the convenience factor. We knew we'd have a lot of guests coming in from out of town and we didn't want our guests to have to pay $50+ dollars a day for parking on top of the normal $300 per night hotel room rate.
Taking all of this into consideration, we started looking at places in Westchester, NY and some in New Jersey as well. Westchester has a bunch of really charming venues and something for everyone and every size wedding. We knew we definitely wanted a Saturday night black tie event but that we also wanted something aside from just a traditional ballroom without any other atmosphere. My husband and I both love anything involving water so we started to look at venues that looked over the Long Island Sound. The nice thing about Westchester is there are SO MANY beautiful options on the water. When we found Hampshire Country Club, it was the perfect mix of the beautiful and elegant look for a Saturday night, but it also has beautiful views of the Sound for a stunning outdoor ceremony and views throughout the night.
Food was also really important to us and Hampshire is known to have amazing food so that was another big factor in our decision. With a country club, you really get elegance and a good price with everything included. It was so nice to have the majority of the details like tables, chairs, linens, food, etc. taken care of by one vendor - it eliminates a ton of stress and extra work on your part as the bride and groom!
THE DRESS
One of the most exciting parts of getting married is the DRESS! But, it can also be one of the most stressful. First off, the costs for wedding dressings can vary so much that it makes you crazy. You see beautiful dresses on Pinterest and then find out that they are couture gowns that cost $30,000. For some brides, this might be realistic, but for me, I would be having a wedding in that dress with my husband and parents as the only guests! What I found is that if you do your research and aren't afraid to hunt down some good prices, you can find your dream dress at a really affordable price!
Now living in New York, of course everyone tells you that you MUST go to Kleinfeld's to get a dress. Now I wanted to go to get the experience of it all, but honestly, I had ZERO intentions of ever purchasing a dress there because I kind of figured out from researching and word of mouth that everything is overpriced, alternations are insane, and unless you are prepared to spend a lot of money, I really wasn't impressed with their selection.
After my Kleinfeld's experience, I went to several other boutiques around the city and found a few things, but nothing I really loved. Searching in YELP, I found a place called Glamour Closet right near Madison Square Park in NYC. When I walked in I was dazzled by the rows of beautiful gowns and even more so by the amazing prices! They had so many huge name brand designers at crazy discounted prices. The dresses mostly overstock from the previous season or sample sizes so know that going in. But, none of the dresses were dirty, tattered, or torn "samples" you're thinking of from typical bridal shops. Everything looked like it had never been touched and they had so many styles for every type of bride!
I ultimately picked a dress from Kelly Faetanini, a New York designer who I loved! My dress was a fit and flare style mermaid dress..but not TOO fit and flare. I wanted something fitted on top and then with some fun at the bottom, but that still felt like the couture style I loved without the astronomical price tag. The bag of the dress is what sold me. It had a lace cut out with beautiful beading down the back so it was sexy but not overkill! Okay now here is the kicker, the dress was a size 12! I am a size 0 and it literally fell down to my ankles when I put it on. However, the consultant at Glamour Closet who helped me to find the dress assured me that it could be altered down to size. Now at first I looked at her like she was crazy, but she gave me recommendations for the best tailors in the city and honestly I took a little leap of faith and purchased the dress. Now there are no returns at Glamour Closet so you also need to be very sure about the dress but I loved it and I bought it!
THE BRIDESMAID DRESSES
Bridesmaid dresses were another big decision. I wanted something elegant, pretty, and light for summer and something that my bridesmaids wouldn't HATE and could wear again potentially. After looking on Pinterest, I came across the designer Amsale and fell in love with their color "Ice". It was such a pretty, light blue color and it came in a TON of styles. I found a retailer in the city, Claudia Hanlin's Wedding Library, where many of my bridesmaids ordered from. But then I also found some of the styles I picked through none other than Nordstrom! And, they still have this amazing designer so I'd totally recommend looking at Nordstrom before anything to get the best price, return policy, and alternations. If you are a Nordstrom Card holder, you get a $100 or more alternations credit, depending on what level your card is, so it's a win, win!
THE TUXES
Tuxes were also something I was pretty particular about. I wanted something aside from the traditional black, but I don't like the light colors like gray. I heard about the company called The Black Tux and I loved their navy blue tux styles. They weren't too blue but made for great pictures and a little change from the traditional black, with still being formal enough for a black tie wedding. They also had awesome customer service and all of the guys were able to order everything online to rent and send it back after they were finished with it.
THE INVITATIONS
Who knew invitations could be so stressful and expensive??! Well if you're planning a wedding, you'll figure it out soon enough! Also, people straight judge you for your invite! It totally sets the tone for your wedding! I'm also really particular and wanted something different. I was asking my creative guru cousin about invites because she is an art designer and knows everything. After bouncing around some ideas and not liking anything from generic invite companies online, and not wanting to pay $5-$10 per invite, she so graciously offered to make the invites for me. I told her she was crazy because I knew how much work it would be, but she was so willing to do it and honestly, I couldn't have asked for a more amazing invitation suite - it was SO perfect! She did everything....well I helped like one day, but that's about all the credit I can take. You can check out the step by step recap of the invitations on her blog The Dropcloth.
THE FLOWERS
Flowers can be such a HUGE expense for a wedding. My husband also worked at a high end flower shop in high school so he was even more particular about having a high-quality florist. WE were fortunate enough to find a local florist in Yonkers, New York - Johnny's Florist. Our wedding coordinator at the venue recommended Johnny's as a place with gorgeous arrangements at half the price of everywhere else. She wasn't kidding! If you are in the Westchester/NYC area, you really need to consider Johnny's. We were able to get the most gorgeous flowers, huge table arrangements, including tall ones that are normally way more expensive, and also a chuppah for the ceremony for amazing prices! Like no kidding, half of what other florists wanted whose work wasn't nearly as beautiful as Johnny's. Contact Theresa, tell her Jamie and Scott Robinson sent you - she is the most amazing person ever! It's also so fun to add special touches to your bouquet. I found this little hanging picture frame that I put a picture of my grandfather who has passed and that I was very close to so he could be there too to walk me down the aisle.
THE DJ
Music was so important to us! We wanted someone who wasn't going to play corny music and who would actually listen to our requests for music, but who could also entertain a variety of ages without making things boring or too repetitive. Dancetime Entertainment was the MOST AMAZING DJ EVER! Honestly we still get compliments to this day on how good our DJ was. Jamie from Dancetime made our wedding incredible. Everything was classy and fun and he and his team kept everyone on the dance floor the ENTIRE night which is exactly what we wanted. We had been to too many weddings where people just didn't dance and it was kind of boring. We love to dance so we were very adamant about this being a big part of our wedding. Dancetime 100% delivered and we were SO grateful. They also did amazing uplighting for us and have a variety of other services like photobooths, screens, etc. Tell them we sent you!
THE HOTEL
We booked accommodations for our guests at The Hilton Westchester in Rye Brook, New York. IT was only about 10-15 minutes from our hotel and it is a hotel with everything you could ever need. Knowing a lot of people would be coming in from out of town, I wanted a place where the guests didn't have leave for anything if they didn't want to. The Hilton has everything! There is a beautiful outdoor pool and indoor pool, tennis courts, a walking train, restaurants, bars, fitness center, and it is dog friendly! This was important to us because everyone knows Havana had to be involved in ALL of the wedding action! The rooms were also very spacious, we got a great block rate and also an amazing suite for our stay. Also, parking was free! This sounds stupid, but around here I found that a lot of hotels charge per day for parking. I just didn't want my guests to be nickel and dimed the entire time when they were traveling, so this was another great feature about the hotel. We've actually spent the weekend back here for our Anniversary because you get a free stay on your anniversary if you book for your wedding - another awesome perk!
THE PHOTOGRAPHER and THE VIDEOGRAPHER
Finding a Photographer and Videographer is tough. Again, another expense and it can get expensive really quickly (like everything else). I knew I wanted someone who could deliver a light, airy, documentary style. Knowing the style you want for pictures is really important because there are many styles. I didn't want the traditional corny portraits for most of the pictures. I found our photographer through searching in YELP and Google.
Emily Main was our photographer and she was great! Her pictures were exactly the style I wanted, she did a really amazing and long engagement session in Central Park for us, and then she and a second shooter captured our wedding day perfectly! You must check her out! Below are some of my favorite pictures from the day and you can really see the style photography and everything she captured! All of the pictures on this blog post were captured by her and the second shooter!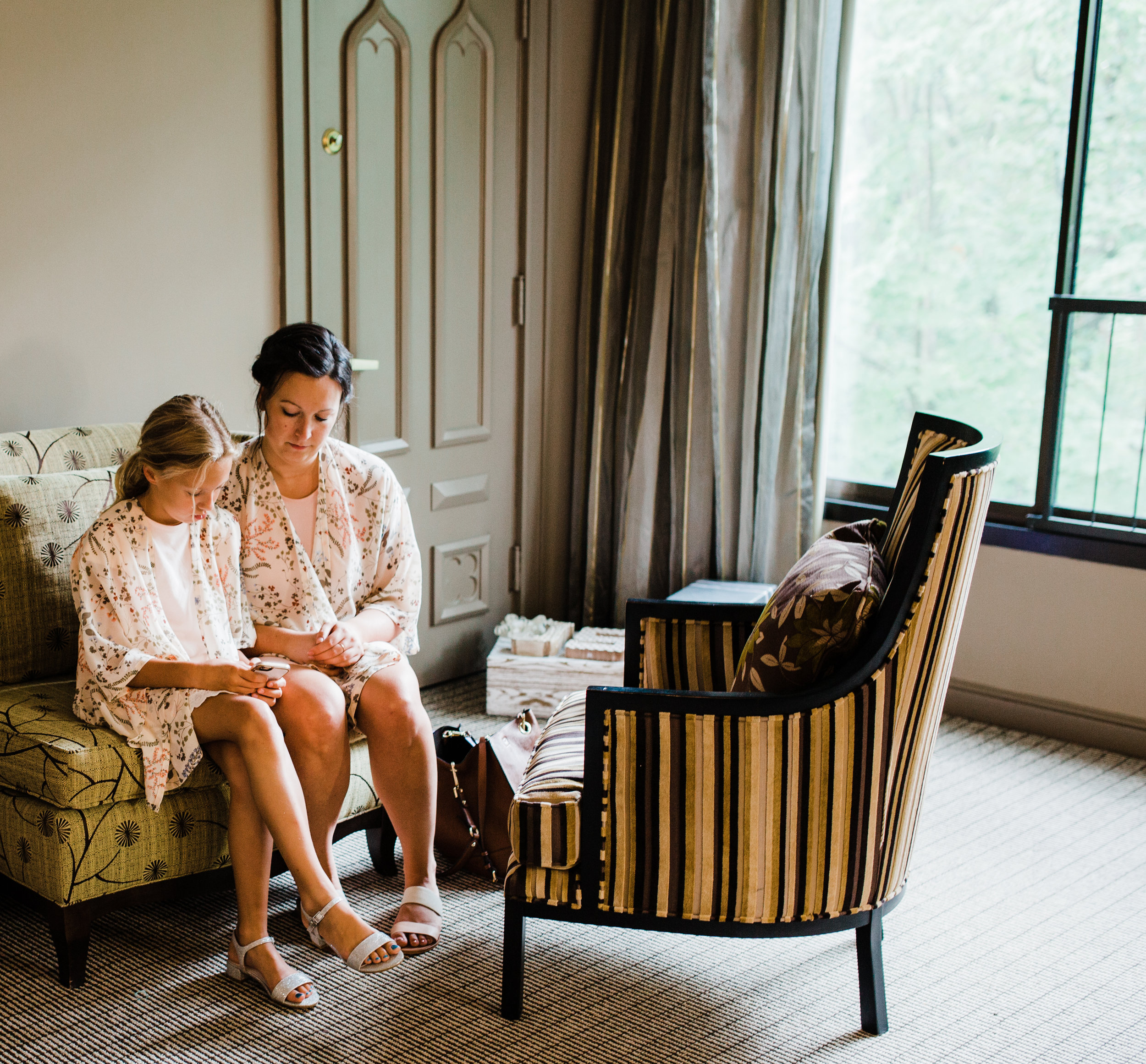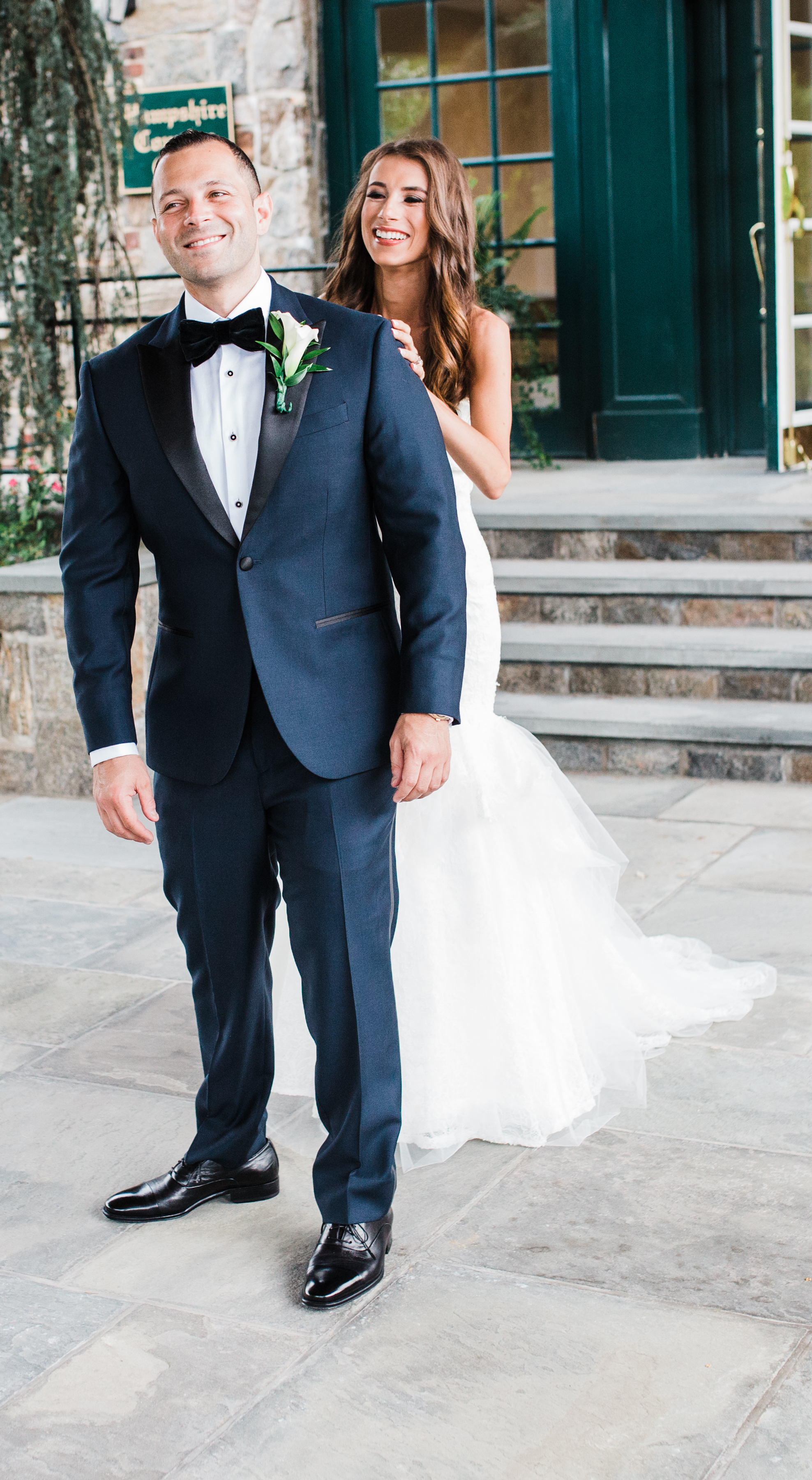 Videography was something that we went back and forth about..did we REALLY need it, was it worth the expense? Everyone told us you need to have a video because it's so fun to look back on your special day. They weren't kidding! I am SO glad we decided to hire a videographer. Again, I did a lot of research and found Brooklyn Wedding Videography. They had a similar documentary style and Robert and Delisa were both so amazing with the shooting and editing process! They were also super affordable and our video was stunning! Definitely don't skip the videography, it's totally worth it!
THE CAKE
Our Cake was from Cerbone's in Rye. We went with a strawberry shortcake style cake with fresh strawberries, whipped cream, and a light vanilla buttercream. They have really great prices! And our florist was also able to add fresh flowers to the cake which made it even more beautiful! They are also a completely NUT FREE bakery if anyone has allergy concerns!
MAKEUP and HAIR
My makeup and hair were very important to me! I didn't want to look too crazy with overkill on either but I also wanted to look beautiful and glamourous. For makeup, I found Angela Civale Abate, a local makeup artist who is amazing! She is so sweet, makes you feel completely relaxed the day of the wedding and she will tailor the look to how you want it. She's also always on time and super organized which as a bride, is something I appreciated. My hair was done by Diamond Bride Hair, Hair by Magda. Now she lives in New Jersey but was willing to travel to Westchester to the venue! She also does amazing updos that are so different and Pinterest worthy!
Check out their Instagrams for the most up to date pictures!
MY WEDDING TIPS/TRICKS
Okay so really quickly to end this LONG blog post, I want to recap some tips/tricks for saving money and making your day special:
You don't need transportation to/from the venue - now this is something we went back and forth about, but honestly, it's an added, unnecessary expense. Unless your venue is way out in the middle of nowhere where Uber doesn't exist or is inaccessible for people to drive to, SAVE YOUR MONEY! Our wedding coordinator gave us really good advice - if you have a shuttle, it ends your party early, which is so true. We've been to a handful of weddings where the shuttle showed up within the last hour and completely took the majority of the guests back to the hotel. When you are paying tens of thousands of dollars for a venue, the last thing you want to do is kill your party in the last (most fun) hour!
Research Everything - Get tons of quotes and prices for everything before making a decision. YELP is an awesome tool but Google is also your best friend. Play different vendors against one another for prices if needed - this cannot ever hurt! We negotiated pretty much everything for the wedding! Everything from your tailor to your venue, food, DJ, flowers, etc., is negotiable!
Remember this is YOUR day - this is the one day of your life that will be all about you so you need to not let others interfere too much. You can respectfully listen to people's opinions, but at the end of the day it's your decision. You'll find a lot of people tell you what they think will be better or that what you're doing isn't the best way to do it. Let it go in one ear and out the other, and if needed, you should speak up and stand your ground. People can think you are being a "bridezilla", trust me, you're probably not, but you need to do things how you want them, especially if you are writing the check!
Add Fresh Flowers to your Cake - This is more beautiful and usually cheaper than making your cake full of crazy decorations. You can get a basic white cake and add flowers to take it from basic to amazing!
Give Your Guest Details - I'd suggest making a wedding website for your guests so that if they have questions, you can refer them to the site! Help explain the attire, directions, anything they might have questions to. This will relieve stress for you at the end of the day because they won't be texting you asking all these questions. If they do, you can refer them to the website!
Remember - wedding planning can be fun and stressful, but don't let any stress outshine what a beautiful thing it is you are celebrating - LOVE!! I hope you enjoyed this post and found it helpful. If you have any questions at all, please feel free to email me, DM me on Instagram, or leave a comment below. I love helping fellow brides with questions!
XoXo - Jamie